Crippsmas Place is a Cheerful Neighborhood Display and Charity Fundraiser in north Fremont, California in the United States.

***

CRIPPSMAS PLACE 2023

***
Crippsmas Place 2023 will allow visitors to walk on the sidewalks or drive on the streets to see the decorations and lights.
There WILL be candy canes handed out from 6-10pm starting Saturday December 9 through Wednesday December 27
SPECIAL FEATURE
–
Santa & Mrs Claus

!
6-8pm Dec 10, 11, 17, 18 and 19
    [Visitors must wear masks to spend time with Santa & Mrs Claus]      
See all our special guests including music groups, bicycle groups, etc on our "Special Guests" page!
Decorations will be up, and lit in the evenings 6-10pm
from December 9 to 31, 2022
*** Extending the show through New Year's Eve!***
Donations to Crippsmas Place benefit our supported charities, listed below:
WHERE TO FIND CRIPPSMAS PLACE:
The 70+ homes of Crippsmas Place are on Cripps Place, Asquith Place, Nicolet Court, Wellington Place, and the stretch of Nicolet Avenue between Gibraltar Drive and Perkins Street.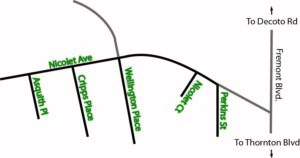 Click below for the map:
View Wellington Pl in a larger map