Question: Where is Crippsmas Place?
Answer: The 80+ homes of Crippsmas Place are on Cripps Place, Asquith Place, Nicolet Court, Wellington Place, Perkins Street, and the stretch of Nicolet Avenue between Gibraltar Drive and Perkins Street.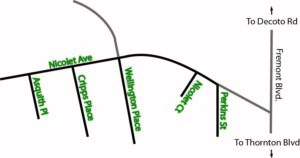 Normally Crippsmas Place candy cane hand-outs and cash donation collections take place at the end of Wellington Place in Fremont, CA.
View Wellington Pl in a larger map